Engage Media : Videomakers For Change
Engage Media has done incredible work in documenting some of the stories of people & communities in Asia. Some of my favs are the Punks who use their music to do activism and help their communities, and the amazing work Andrew Garton has done with Sarawak, documenting how their traditional lives in forest communities has been changed & is at risk of being lost.
They are crowdfunding via pozible to help more video journalists attend Camp Sambel this year, for training.
It's just over half way funded, pls help it get through, & spread the word to your friends. I think the world needs to hear more of these Voices - they're doing important work
http://www.pozible.com/index.php/archive/index/4673/description/0/0
visit the pozible page for more details, or read more.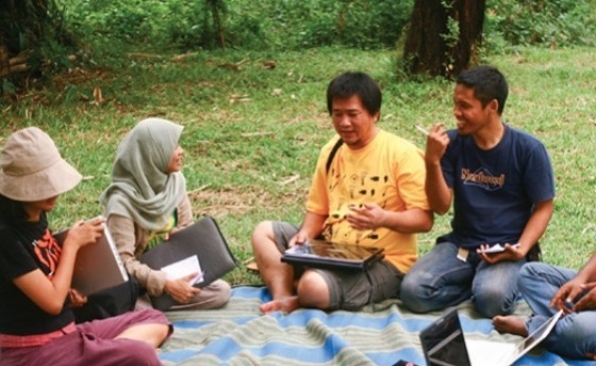 Project information from the pozible page :
Next month, EngageMedia's Camp Sambel will host more than 50 Southeast Asian video activists for five days of video training, screenings and discussion near Kuala Lumpur, Malaysia. Camp Sambel is a collaboration between EngageMedia and KOMAS, a human rights popular communications centre based in KL.
From February 20-25, video activists from all over Indonesia, East Timor, the Philippines, Southern Thailand, Singapore and Malaysia will meet to share skills, network and learn how to get their message out through increasingly popular video sharing technologies.
EngageMedia will cover the travel costs of more than 40 camp participants - but the response to this year's event has been overwhelming. Unfortunately we will have to turn away some fantastic people if we can't raise at least $2500 (and hopefully more) for the Camp Sambel Travel Fund.
Citizens right across the Asia Pacific still struggle for justice on a daily basis - from human rights abuses in West Papua, Southern Thailand and the Philippines, to environmental destruction in Borneo or the widespread exploitation and abuse of migrant workers.
Taking inspiration from the Arab Spring, activists from across the region have recognised the power of video and new technologies to bring about change.
You can help them get their stories to the world by donating to the Camp Sambel Travel Fund!
Find out more about Camp Sambel here.
WHO WILL I BE HELPING?
If we reach our target of $2500 we will be able to fund five more camp participants. If we exceed our target we will be able to bring even more! If you're super generous we can raise the $10,000 we need to maximise the event's impact. At this stage every dollar helps us bring another person.
Here are some of the filmmakers you'll be helping to bring to this year's camp:
Sancho Alves Nahac, East Timor
Sancho is a committed filmmaker and journalist who lives in the remote East Timorese region of Suai Kovalima. His films capture the struggle of the East Timorese to maintain their traditional culture in the face of modern development pressures.
Ucu Agustin, Indonesia
A former print journalist, Ucu turned to video because she felt it was a more effective way of educating audiences about the issues facing everyday Indonesians: from government corruption to the discrimination faced by the country's underground sex-workers.
FX Making, West Papua
FX did his video training with EngageMedia as part of our Papuan Voices project.
His work and that of his colleagues is some of the only original video coming out of Indonesia's most secretive province and works to highlight the increasing marginalisation faced by indigenous Papuans.
ABOUT ENGAGEMEDIA
EngageMedia is a non-profit media, technology and culture organisation that uses the power of video, the internet and free software technologies to create social and environmental change in our region.
We work with video activists and filmmakers because we believe independent media and free and open technologies are fundamental to building the movements needed to challenge social injustice and environmental damage.
http://www.pozible.com/index.php/archive/index/4673/description/0/0
::: category:
::: location:
Log in to post comments

4135 reads